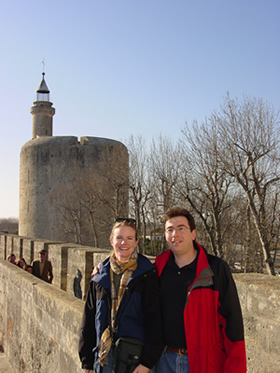 UNITED ESTATES WINE IMPORTS Ltd. is a company dedicated to importing handcrafted, high-quality wines, from artisan estates in France.
Before starting their business, the husband and wife team of Patrick and Connie Allen spent many years living in France and New York. During that time they worked for many major players in the wine business including Becky Wasserman, Neal Rosenthal, William Deutsch, and Michael Skurnik.
After crafting a business plan over many long walks through Central Park they "took the plunge" and in the spring of 2002 moved to France. Their goal was to establish an importing company dedicated to promoting French country wines from villages far off the beaten track.
In France they researched and tasted wines from hundreds of wineries, ultimately creating a unique portfolio of exceptional, handcrafted, artisan wines. Upon return to their home state of Ohio, they took the steps necessary to create the independent importing company that they had dreamed of during their walks in the park. In January of 2004, the first wines imported by United Estates landed in New York.
Though there are now a couple of exceptions to the rule, the South of France still remains the focus for United Estates Wine Imports. It is one of the few remaining "sleeping giants" in the wine world. In the past, the South of France was known for producing large volumes of low quality wine. Today, thanks to the efforts of many talented young winemakers, the region is producing world class wines. United Estates Wine Imports aims to represent producers who have a deep respect for their land, and who are fully dedicated to quality and authenticity.

A brief word about our logo…
The name, United Estates, embodies our philosophy that by working together with these progressive farmers, we can overcome the obstacles that make selling their wines outside of Europe very difficult.
Therefore, we chose the Fleur de Lys, a symbol of unity, as the center of our logo. The fleur de lys is also an old symbol of Provence. Frédéric Mistral once wrote: "the people of … Provence, generally yearned for the white flag with the fleur-de-lys. (That has changed since.) … it seems to me as an unconscious protest of the people against the increasingly excessive centralization … the fleur-de-lys of yore was for the Provençaux (who had always seen it on the coat of arms of Provence) the symbol of an age when governments had more respect for our customs, traditions, and freedoms."
From: The Memoirs of Frédéric Mistral, Translated by George Wickes
Through the wines we import, you too can experience these beautiful vineyards, and in a tangible way, get to know these dedicated artisan winemakers.